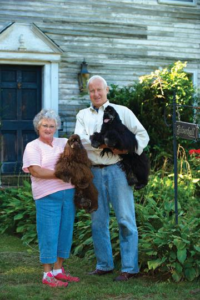 Wil­son et Bon­nie ont eu cha­cun du suc­cès dans les Cock­ers avant leur mariage en 1983.
Au début, Bon­nie a été for­mée par Ruth et Art Ben­hoff du célèbre éle­vage Artru. Wil­son, lui, a com­mencé sa car­rière à l'adolescence, accom­pa­g­nant Cam Lyman et en exposant sous l'affixe Wilco.
Bon­nie a fondé son éle­vage, Sil­ver­hall, en 1975 ; elle et Wil­son, com­bi­nant à eux deux 40 ans d'élevage et de han­dling sous les affix­es Sil­ver­hall et Wilco, ont été couron­nés de suc­cès. Ils ont eu un impact sig­ni­fi­catif sur notre race. Leur mariage a réu­ni ces deux grands tal­ents et leur ont per­mis de pro­duire plus de 200 cham­pi­ons AKC sous l'affixe Silverhall.
Ils ont pro­duit de nom­breux grands chiens, dont Ch. Sil­ver­hall Sol­dier of For­tune et GCHP Sil­ver­hall Strike Force (mar­ron), le meilleur ASCOB de tous les temps. Pen­dant plusieurs années, ils ont tra­vail­lé leurs lignées de repro­duc­tri­ces ASCOB et noires. Peu d'éleveurs de Cock­ers aujourd'hui ont dévelop­pé une lignée de référence comme Bon­nie et Wil­son, avec un type et une allure facile­ment iden­ti­fi­ables. La sig­na­ture Sil­ver­hall et leurs lignées se retrou­vent aujourd'hui dans de nom­breux pedi­grees par­mi les plus excep­tion­nels non seule­ment aux États-Unis, mais aus­si dans le monde entier.
Leurs vic­toires à l'ASC sont légendaires, notam­ment BIS, BISS et ils comptent de très nom­breux vain­queurs à la fois au Flush­ing Spaniel et aux expo­si­tions nationales.
De plus, Bon­nie et Wil­son ont con­stam­ment don­né de leur temps en encad­rant de nou­veaux juges, en partageant avec eux leurs con­nais­sances de la race en tant que men­tors au pro­gramme d'éducation des juges de clubs depuis de nom­breuses années. Bon­nie a égale­ment partagé sa pas­sion à l'éducation des éleveurs en tant que prési­dente de l'éducation des éleveurs. Elle a beau­coup oeu­vre pour la race au sein des mem­bres de l'ASC.
De plus, Bon­nie a élar­gi son impact sur la race en occu­pant plusieurs man­dats au sein du comité de l'ASC, à la fois en tant que représen­tante locale et en tant que direc­trice générale, ayant un impact per­son­nel sur une var­iété de ques­tions clés du con­seil d'administration affec­tant directe­ment les mem­bres et notre race.
Pour ces raisons, l'American Spaniel Club a recon­nu la con­tri­bu­tion de Wil­son et Bon­nie Pike à notre race et les a ajoutés à la liste de son Hall of Fame — « tem­ple de la renommée ».
Wil­son est décédé le 23 juin 2020. Il aura été un grand éleveur qui partageait ses immenses con­nais­sances du Cock­er sans for­fan­terie. Il aura été immen­sé­ment appré­cié et loué de notre com­mu­nauté. Tou­jours aimable et cour­tois, pro­fes­sion­nel, il laisse un vide qui n'est pas près d'être comblé…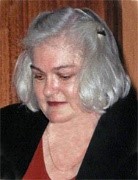 Extraits de The World of the Cock­er Spaniel 1994 — Bill Gorod­ner, Lloyd Alton
Le Cocker Américain cet inconnu ! par Mme Françoise Firminhac.
Revue Spaniel Club Français décembre 1966.
Courtoisie de M. Yann Gourdel.
Standard Cocker Américain traduit de la main de Mme Françoise Firminhac.
Courtoisie de M. Jean-Paul Citerne.
Pédigrée de Phyllis de la Haulte Fortelle, à Mme Françoise Firminhac.
Courtoisie de M. Jean-Paul Citerne.